None of us intentionally plans to fail.
We don't intend to falter, even when we embark on difficult quests, such as retiring with enough income for the rest of our lives.
However, sometimes we fail to plan and, as Benjamin Franklin reputedly said, anyone who does that really is planning to fail.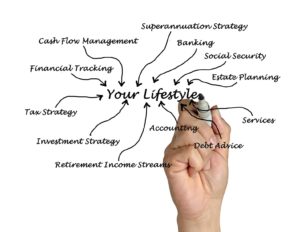 Consider this scenario: You come home from work with good news. You got a raise! If – when your spouse asks what your new take-home pay will be – you answer, "It depends," you've got an issue, because it's impossible to plan for how much you can spend and save.
Will your advisor consider all options?
Preparing yourself for retirement is the same way. You can retire with adequate income – enough money to cover your expenses, including late-in-retirement medical costs, which are likely to increase – but it requires a plan.
And while the planning takes concentration and effort, everyone can – and must — do it. Please don't think that you're off the hook because you have a financial advisor. You are responsible for educating yourself and asking questions to make sure that person can help guide you through the maze.
Here are some big questions to ask your advisor:
What about taxes on my income?
What about risk, particularly as it relates to income?
What about income for late-in-retirement expenses?
What about the continued availability of my advisor to be there through my lifetime?
What about the current low interest-rate environment?
What about the tradeoff between my own retirement and the legacy I want to leave to my kids?
And what about my ability to stay in my house rather than downsizing to save money?
Ask your advisor about his or her background, too. What tools and products does your advisor include in his/her proposals, and why?
You want to make sure your advisor will consider all the options that you find in your own research, and can give you the pros and cons in a way that is clear to you and makes sense.
Take responsibility for a successful retirement
Retirement planning is difficult because there are no guarantees about your future. You might put together a plan based on living to a certain age, for instance, but what if you live longer, or expenses are higher than you anticipated?
I believe in creating income that you can count on. I am always more confident in a plan when I ask this simple question: How much income will I be assured of in my various stages of retirement?
If your advisor answers, "It depends," keep looking for answers.
If you have questions about annuities and how they might help meet your retirement objectives, write to me at Ask Jerry.
Or if you'd prefer to do more research on your own, take a look at the useful tools and information we offer in our Current Income Learning Center.