This is the second in a series of articles about QLAC, which began with "What Every Baby Boomer Should Know – Introducing QLAC."
A lot has changed since the first article came out. Additional insurance companies have received approval of their QLAC products in various states. Financial writers are beginning to write about QLAC with generally favorable stories.
While the business is still in its infancy, investors will want to begin making plans for distributing their IRA or 401(k) and will want to (1) have an estimate of what QLAC can provide in terms of guaranteed income, and (2) know when enough insurance companies are offering QLAC to create a competitive market.
How much guaranteed lifetime income can an investor purchase from a QLAC?
The answer depends on the investor's age and gender (and whether income is paid over one or two lifetimes), the age income will start, and whether the investor elects to provide beneficiary protection before the income starts. An optional beneficiary protection can be elected to provide a "return of premium" in the case of death before the income start age. However, that election can have a significant impact on the amount of income to be received.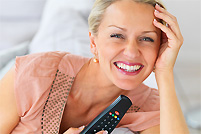 The table below provides an illustration of the guaranteed lifetime income (paid annually) that a QLAC will provide, using the same market-based pricing employed in our QLAC tool.
As an example, a female aged 65 using $100,000 to purchase a QLAC with income starting at age 85 will receive over $23,000 a year if the Return of Premium is elected, and over $34,000 if the Return of Premium is not elected.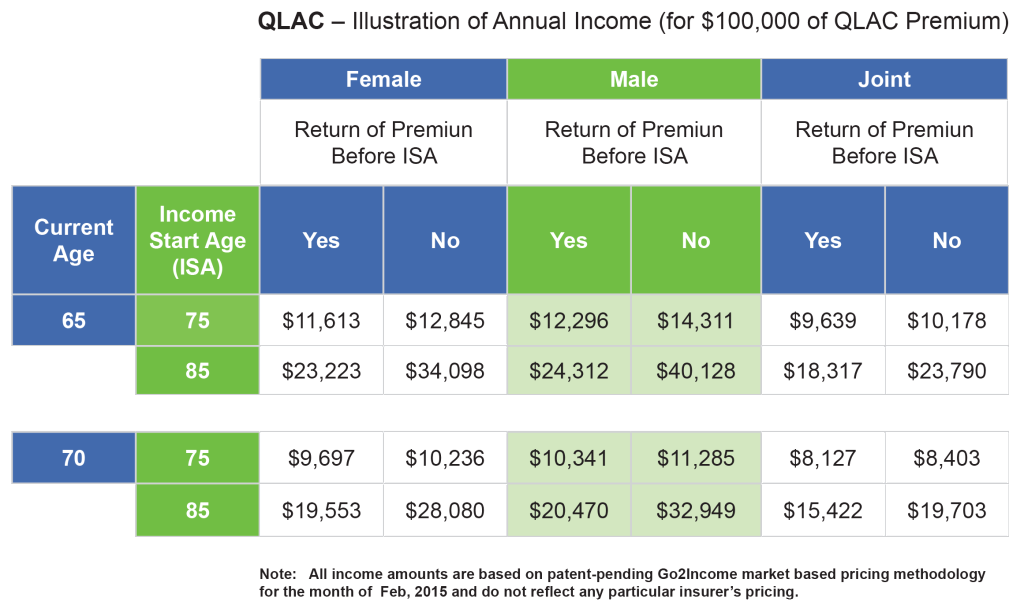 For an income estimate based on your current age, income start age, and your gender, visit our Go2Income Toolkit, complete the information there and we will send it to you.
This estimate will be based on an investment of $100,000 for a single annuitant, with Return of Premium elected, and will be emailed to you within one business day.
When will there be a competitive marketplace for QLAC?
Of the over 200 companies that offer immediate annuities, we follow approximately 15 to 20 of some of the highest-rated companies in the industry.
Since IRS-approved QLACs are new, only a handful of insurance companies currently have QLACs approved for sale. As more companies introduce QLACs, pricing should become more competitive, ultimately benefiting investors like you.
To be notified when additional QLAC issuers come on board, please subscribe to this blog.