As much as we look forward to the gathering around Thanksgiving, preparations for many of us include ticking off a mental list of what we cannot talk about for fear of igniting a feud in-between second helpings and dessert.
In the spirit of the holiday, I present a list of topics (about retirement of course) that fall into three categories:
Safe for dinner conversation.
Discuss only when Uncle Bob is out of the room.
Danger! Politics!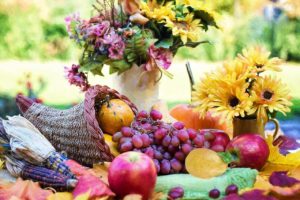 Whether you play it safe or plan to leave before the pie is served, here are nine retirement planning trends for which I am thankful this season. Please don't blame me if some relatives at the table feel differently.
Suitable for any table
Your 401(k) is safe (for now)
The original tax proposal in the U.S. House of Representatives capped the amount of money you could put into a 401(k) while deferring taxes. This retirement savings vehicle has proved effective at encouraging employees to save for retirement. Howls of protest from millions of individuals caused politicians to change the plan. I'm grateful that the voice of the little guy can still change the course of decisions in Washington, D.C. I continue to believe, however, that we could make 401(k) plans better by providing better options for retirement income.
We can agree on how to preserve Social Security (for now)
Over the past couple of decades we have heard many ideas about cutting Social Security in order to save it. The trend these days is toward preserving this important program pretty much as it is. For Congress or any administration officials who are reading this column, I refer you to my proposals to help fund Social Security while maintaining benefits.
Pay less, save more
I appreciate that fees for investment advice are slowly decreasing. We have known for a while that fees can have a dramatic effect on retirement savings and the income that savings can produce. The gradual downward pressure on the amount of money companies charge for either managing money or allocating savings is an irreversible and positive trend.
Income annuities are getting smarter and more valuable
Let's be thankful that the income annuity, a product that was invented more than a century ago, has been repurposed for new opportunities while maintaining its safety and unique role as a source of guaranteed lifetime income. QLAC, for instance, is a good example of a new use of deferred income annuities that enables consumers to create greater security in retirement out of their 401(k) or IRA savings – with tax benefits. It and similar products are particularly needed because pension plans providing lifetime income are quickly disappearing. This added flexibility and the tools for smarter allocation make income annuities a way to achieve peace of mind now and for many Thanksgivings into the future.
Out of Uncle Bob's earshot
A financial press that covers innovative ideas
While the media in general is contracting and trying to find its footing, many financial magazines and websites continue to do good journalism, which includes analyzing new retirement products and services that could help everyday investors. Today, smart consumers do their own homework to ensure their financial future. Thoughtful reports from respected journals support the process of self-education.
Technology to the rescue
The financial and insurance industries are investing more in technology and behavioral economics, and that is a good thing. Driverless cars and virtual reality software are great. But quieter innovations such as retirement planning algorithms and artificial intelligence programs that help us increase financial safety – and our ability to build our savings – are at least as useful. The more we understand about how the markets and investors behave, the easier it is for individuals to integrate choices and make smarter decisions.
A robust stock market enables you to catch up on retirement
I will be thankful if we can avoid giving back all those gains made in the stock market over the past few years. Portfolios or savings accounts are up 15 to 20 percent. It's time to review your retirement plans, identify how much retirement income your new level of savings can produce, and consider moving savings to income. Your Income Power should be higher than it was a year ago. Check it out.
You might be eating alone if you bring this up …
Regulation
A strengthened federal and state regulatory regime has worked to protect investors and savers. The taste for regulation ebbs and flows, but in general our regulations are working well to increase institutional transparency and consumer safety. Of course, we need to watch for developments in Washington, D.C., that could undercut the systems of vigilance. Keep things spicy: Point out that it could be either the Republicans or the Democrats who make us less thankful.
Thanks from Jerry
I have been designated an Investment Adviser Representative at Kiplinger's. I am contributing articles regularly to the Wealth Creation Channel on the Kiplinger's website, writing about retirement planning, income annuities and many other financial topics. Over the years, I have been in contact with many Kiplinger's readers. They are thoughtful, ask good questions, are willing to do work on their own, and appreciate help and analysis of their situations. I look forward to discussing retirement finance with many more in the coming year. I'm very thankful for the opportunity to work with all of you.
After you learn more about your own Income Power, don't hesitate to contact me with any questions.